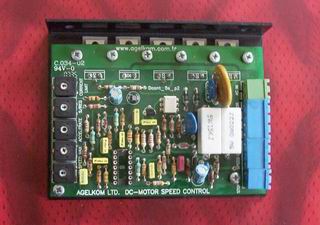 DC Motor Speed Controller for 180VDC Motors

180VDC Motorlar icin hız komtrolu
Key Benefits
Dcont5 variable speed DC motor control is a versatile general purpose control rated to 1.5 HP.
Dcont5 1.5 Hp ye kadar olan genel amaçlı DC motorlar icin kullanılabilir
Dcont5 is designed for DC, permanent magnet or field winding motors.
Dcont5 sabit mıknatıslı ve alan sargılı DC motorlar icin dizayn edilmistir
Dcont5 has 5 presets: Min and Max Speed, Acceleration, Speed Regulation and Torque Control.
5 adet ön ayar imkanı vardır: Min ve Max Hız, Hızlanma, Hız regulasyonu ve Tork Kontrolü.
External Speed Control and Stop capabilities.
Harici Hız Kontrolu ve stop kontrolü vardır
Tachometer Feedback or Tachometer Follower connection is possible
Tako ile hiz sabitleme veya Tako ile hızı takip etme özelliği vardır.
Directly operates 220VAC, and has transient voltage protection.
Direkt olarak 220VAC ile beslenir, transformatöre gerek yoktur, voltaj darbe koruması vardır.
Easy to use, cost effective open frame design.
Düşük maliyetli açık tasarımı sayesinde kolay uygulanır.
---